Progress WhatsUp Gold Network Traffic Analysis

Analyze and Monitor Bandwidth Consumption and Network Traffic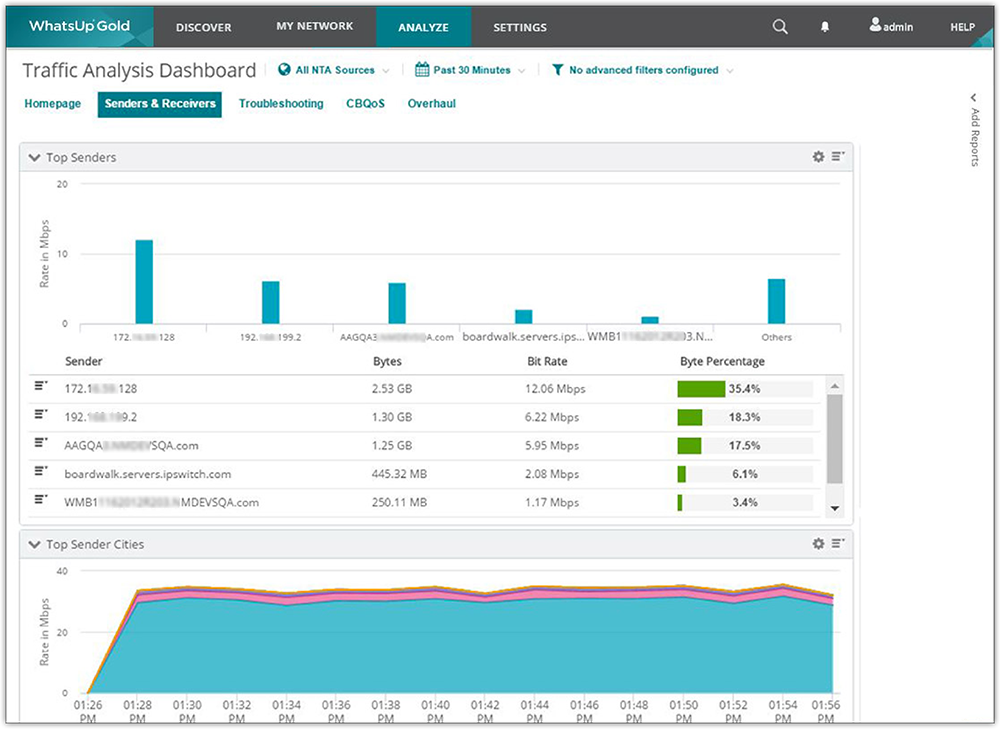 Network Traffic Analysis 5 New Sources with 1 Year Service
#NA-6JNX-0170
Our Price: $1,865.00
>
Network Traffic Analysis is available as an add-on to WhatsUp Gold's Premium, MSP and Distributed editions and is included in the Total Plus edition.
Click here to jump to more pricing!
Overview:
Our Network Traffic Analysis module delivers detailed and actionable data on network traffic and bandwidth consumption, which helps you establish and enforce bandwidth usage policies, control ISP costs, secure the network, and provide the network capacity required by users, applications, and the business. It not only highlights the overall utilization of the LAN, WAN, and the internet, but also indicates which users, applications, and protocols are consuming bandwidth.
Monitor Network Traffic and Bandwidth Usage
WhatsUp Gold makes it easy to get detailed visibility into your network traffic to see which users, applications, and protocols are consuming bandwidth. This insight allows you to setup bandwidth usage policies, maximize your return on ISP costs and ensure adequate bandwidth for critical business applications and services.
Need Network Traffic Monitoring? Here's How WhatsUp Gold Can Help

Network Traffic Visibility
Having insight to application bandwidth consumption allows you to better manage the performance of your overall infrastructure, applications and services. You can identify bottlenecks and plan effective workarounds or justify a needed bandwidth upgrade.

Bandwidth Capacity Planning
Being able to see historical bandwidth usage trends allows you to stay ahead of capacity planning. Having the visibility to which applications are driving consumption allows you to demonstrate effective bandwidth management and more easily justify upgrades.

Faster Troubleshooting
Knowing what traffic was consuming bandwidth during a slow-down can really accelerate your troubleshooting. It helps you identify bottleneck issues like bandwidth hogs running where and when they shouldn't be. Finding these quickly can make you a network superhero.

5 Superpowers You Get From Network Traffic Monitoring
Network Traffic X-Ray Vision
Analyze netflow data to see things that just aren't possible with SNMP like a port level analysis of applications consuming bandwidth, end-points ('talkers') consuming bandwidth by port and bandwidth consumption by end-point or application over time
Bandwidth Usage Super Intelligence
A utomatically track WAN usage by application for a month and then show management just what those monthly costs are paying for. Management likes IT pros that think about the business and you have all the factoids at your fingertips.
Network Omni-Presence
Some of your peers maybe worried that you are watching everything when they see reports that show who is using valuable bandwidth for games or videos when they should be working. But you'll be on top of unauthorized activity that impacts end-user response times.
Super Network Optimization Skills
How about validating that your best laid QoS plans are actually working. Traffic monitoring at the network flow level can show you the affect of application prioritization schemes.
Cyber-Attack Antennae
Set alerts for suspicious conditions like spikes in failed connection attempts on a device. Quickly spot that all of the transmissions originate form a few IP addresses outside your network and you can block an external portscan before the attacker is successful.
Pricing Notes:
Pricing and product availability subject to change without notice.
Progress Products
Network Traffic Analysis with 1 Year Service Agreement
Network Traffic Analysis 5 New Sources with 1 Year Service
#NA-6JNX-0170
Our Price: $1,865.00
Network Traffic Analysis 10 New Sources with 1 Year Service
#NA-6KAI-0170
Our Price: $3,485.00
Network Traffic Analysis 15 New Sources with 1 Year Service
#NA-6KGV-0170
Our Price: $4,735.00
Network Traffic Analysis 25 New Sources with 1 Year Service
#NA-6KVV-0170
Our Price: $6,230.00
Network Traffic Analysis 35 New Sources with 1 Year Service
#NA-6LEG-0170
Our Price: $7,850.00
Network Traffic Analysis 50 New Sources with 1 Year Service
#NA-6LIQ-0170
Our Price: $9,965.00
Network Traffic Analysis Unrestricted New Sources with 1 Year Service
Network Traffic Analysis with 2 Years Service Agreement
Network Traffic Analysis 5 New Sources with 2 Years Service
#NA-6JYR-0170
Our Price: $2,330.00
Network Traffic Analysis 10 New Sources with 2 Years Service
#NA-6KGB-0170
Our Price: $4,360.00
Network Traffic Analysis 15 New Sources with 2 Years Service
#NA-6KLL-0170
Our Price: $5,915.00
Network Traffic Analysis 25 New Sources with 2 Years Service
#NA-6L7M-0170
Our Price: $7,785.00
Network Traffic Analysis 35 New Sources with 2 Years Service
#NA-6LGL-0170
Our Price: $9,810.00
Network Traffic Analysis 50 New Sources with 2 Years Service
#NA-6LLJ-0170
Our Price: $12,460.00
Network Traffic Analysis Unrestricted New Sources with 2 Years Service
Network Traffic Analysis with 3 Years Service Agreement
Network Traffic Analysis 5 New Sources with 3 Years Service
#NA-66EJ-0170
Our Price: $2,800.00
Network Traffic Analysis 10 New Sources with 3 Years Service
#NA-6EQC-0170
Our Price: $5,230.00
Network Traffic Analysis 15 New Sources with 3 Years Service
#NA-6P7S-0170
Our Price: $7,100.00
Network Traffic Analysis 25 New Sources with 3 Years Service
#NA-6THS-0170
Our Price: $9,340.00
Network Traffic Analysis 35 New Sources with 3 Years Service
#NA-6U5J-0170
Our Price: $11,770.00
Network Traffic Analysis 50 New Sources with 3 Years Service
#NA-6V5D-0170
Our Price: $14,950.00
Network Traffic Analysis Unrestricted New Sources with 3 Years Service
Network Traffic Analysis Service Agreements - 1 Year
Network Traffic Analysis 5 Service Agreement with up to 1 Year Service
#NA-7L6F-0170
Our Price: $470.00
Network Traffic Analysis 10 Service Agreement with up to 1 Year Service
#NA-7LTV-0170
Our Price: $875.00
Network Traffic Analysis 15 Service Agreement with up to 1 Year Service
#NA-7M7Z-0170
Our Price: $1,185.00
Network Traffic Analysis 25 Service Agreement with up to 1 Year Service
#NA-7MCO-0170
Our Price: $1,560.00
Network Traffic Analysis 35 Service Agreement with up to 1 Year Service
#NA-7MXA-0170
Our Price: $1,965.00
Network Traffic Analysis 50 Service Agreement with up to 1 Year Service
#NA-7NEQ-0170
Our Price: $2,495.00
Network Traffic Analysis Unrestricted Service Agreement with up to 1 Year Service
#NA-7NTA-0170
Our Price: $4,760.00
Network Traffic Analysis Service Agreements - 2 Years
Network Traffic Analysis 5 Service Agreement with up to 2 Years Service
#NA-7L6L-0170
Our Price: $935.00
Network Traffic Analysis 10 Service Agreement with up to 2 Years Service
#NA-7LVZ-0170
Our Price: $1,745.00
Network Traffic Analysis 15 Service Agreement with up to 2 Years Service
#NA-7M8U-0170
Our Price: $2,370.00
Network Traffic Analysis 25 Service Agreement with up to 2 Years Service
#NA-7MCP-0170
Our Price: $3,115.00
Network Traffic Analysis 35 Service Agreement with up to 2 Years Service
#NA-7N3H-0170
Our Price: $3,925.00
Network Traffic Analysis 50 Service Agreement with up to 2 Years Service
#NA-7NFG-0170
Our Price: $4,985.00
Network Traffic Analysis Unrestricted Service Agreement with up to 2 Years Service
#NA-7NTL-0170
Our Price: $9,515.00
Network Traffic Analysis Service Agreements - 3 Years
Network Traffic Analysis 5 Service Agreement with up to 3 Years Service
#NA-77KD-0170
Our Price: $1,400.00
Network Traffic Analysis 10 Service Agreement with up to 3 Years Service
#NA-7EJB-0170
Our Price: $2,615.00
Network Traffic Analysis 15 Service Agreement with up to 3 Years Service
#NA-7HMV-0170
Our Price: $3,550.00
Network Traffic Analysis 25 Service Agreement with up to 3 Years Service
#NA-7HVC-0170
Our Price: $4,675.00
Network Traffic Analysis 35 Service Agreement with up to 3 Years Service
#NA-7KCF-0170
Our Price: $5,885.00
Network Traffic Analysis 50 Service Agreement with up to 3 Years Service
#NA-7UDR-0170
Our Price: $7,475.00
Network Traffic Analysis Unrestricted Service Agreement with up to 3 Years Service
#NA-7ZZD-0170
Our Price: $14,275.00
WhatsUp Gold Network Traffic Analysis Upgrades
Network Traffic Analysis 1 Upgrade to 5
#NA-52CS-0170
Our Price: $1,275.00
Network Traffic Analysis 1 Upgrade to 10
#NA-546D-0170
Our Price: $2,380.00
Network Traffic Analysis 1 Upgrade to 15
#NA-55BK-0170
Our Price: $3,225.00
Network Traffic Analysis 1 Upgrade to 25
#NA-56HZ-0170
Our Price: $4,245.00
Network Traffic Analysis 1 Upgrade to 35
#NA-56MG-0170
Our Price: $5,350.00
Network Traffic Analysis 1 Upgrade to 50
#NA-57PP-0170
Our Price: $6,795.00
Network Traffic Analysis 1 Upgrade to Unrestricted
#NA-589B-0170
Our Price: $11,125.00
Network Traffic Analysis 5 Upgrade to 10
#NA-58YF-0170
Our Price: $1,215.00
Network Traffic Analysis 5 Upgrade to 15
#NA-5ACE-0170
Our Price: $2,150.00
Network Traffic Analysis 5 Upgrade to 25
#NA-5CVY-0170
Our Price: $3,275.00
Network Traffic Analysis 5 Upgrade to 35
#NA-5GGP-0170
Our Price: $4,490.00
Network Traffic Analysis 5 Upgrade to 50
#NA-5GPC-0170
Our Price: $6,080.00
Network Traffic Analysis 5 Upgrade to Unrestricted
#NA-5HWM-0170
Our Price: $10,835.00
Network Traffic Analysis 10 Upgrade to 15
#NA-5JAA-0170
Our Price: $935.00
Network Traffic Analysis 10 Upgrade to 25
#NA-5JDY-0170
Our Price: $2,060.00
Network Traffic Analysis 10 Upgrade to 35
#NA-5JTQ-0170
Our Price: $3,275.00
Network Traffic Analysis 10 Upgrade to 50
#NA-5LVK-0170
Our Price: $4,865.00
Network Traffic Analysis 10 Upgrade to Unrestricted
#NA-5M2E-0170
Our Price: $9,620.00
Network Traffic Analysis 15 Upgrade to 25
#NA-5M9F-0170
Our Price: $1,125.00
Network Traffic Analysis 15 Upgrade to 35
#NA-5MKW-0170
Our Price: $2,340.00
Network Traffic Analysis 15 Upgrade to 50
#NA-5NSE-0170
Our Price: $3,930.00
Network Traffic Analysis 15 Upgrade to Unrestricted
#NA-5QWX-0170
Our Price: $8,685.00
Network Traffic Analysis 50+ add-on
#NA-5ZET-0170
Our Price: $125.00
Network Traffic Analysis 25 Upgrade to 35
#NA-5T5T-0170
Our Price: $1,220.00
Network Traffic Analysis 25 Upgrade to 50
#NA-5UPM-0170
Our Price: $2,805.00
Network Traffic Analysis 25 Upgrade to Unrestricted
#NA-5V3V-0170
Our Price: $7,565.00
Network Traffic Analysis 35 Upgrade to 50
#NA-5XKZ-0170
Our Price: $1,590.00
Network Traffic Analysis 35 Upgrade to Unrestricted
#NA-5XSR-0170
Our Price: $6,350.00
Network Traffic Analysis 50 Upgrade to Unrestricted
#NA-5Y3R-0170
Our Price: $4,760.00