Progress WhatsUp Gold Failover Manager

Managed File Transfer with Zero Downtime and No Data Loss
Progress Products
WhatsUp Gold Failover Manager with 1 Year Service Agreement
WhatsUp Gold Failover Manager 25 New Points with 1 Year Service
#NA-648N-0170
Our Price: $1,285.00
WhatsUp Gold Failover Manager 100 New Points with 1 Year Service
#NA-64BM-0170
Our Price: $1,870.00
WhatsUp Gold Failover Manager 300 New Points with 1 Year Service
#NA-656P-0170
Our Price: $3,505.00
Click here to jump to more pricing!
Overview:
Neverfail Failover Manager delivers zero downtime, no data loss, and unified failover management by maximizing availability of MOVEit Transfer with automated failover. Failover Manager enables you to:
Ensure reliable file transfers for 24/7 operations
Unified failover management for MOVEit Transfer, MOVEit Automation, SQL Server and Windows file servers. Failover to secondary and tertiary servers maximizes file transfer success. No single point of failure delivers 24/7 operations.
Safeguard against data loss for business continuity and compliance
Heartbeat communication between primary and failover servers ensures zero data loss in the event of failure. Failover within a single or to remote disaster recovery site within seconds to minutes.
Simplify and automate file transfer operations
Predictive and automated rules-based failover ensures continuous operations. Installed in as little as an hour for local failover. No additional hardware and software for load balancing is required. Apply Windows updates on MOVEit MFT servers without downtime.
Neverfail Failover Manager Architecture
Failover Manager heartbeat communication between primary and secondary servers continuously replicates data at the windows kernel level ensuring zero data loss in the event of a failure.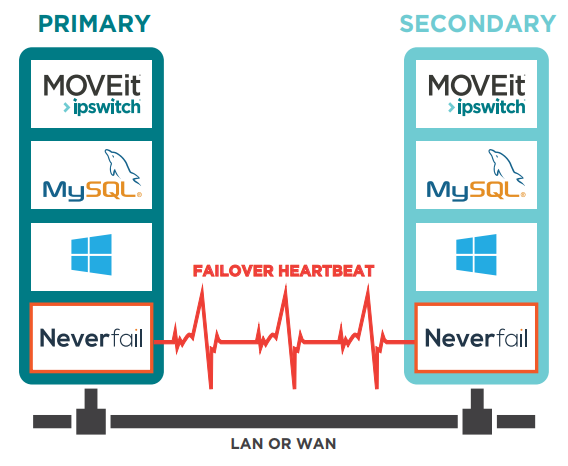 Pricing Notes:
Pricing and product availability subject to change without notice.
Progress Products
WhatsUp Gold Failover Manager with 1 Year Service Agreement
WhatsUp Gold Failover Manager 25 New Points with 1 Year Service
#NA-648N-0170
Our Price: $1,285.00
WhatsUp Gold Failover Manager 100 New Points with 1 Year Service
#NA-64BM-0170
Our Price: $1,870.00
WhatsUp Gold Failover Manager 300 New Points with 1 Year Service
#NA-656P-0170
Our Price: $3,505.00
WhatsUp Gold Failover Manager 500 New Points with 1 Year Service
#NA-669X-0170
Our Price: $4,965.00
WhatsUp Gold Failover Manager 750 New Points with 1 Year Service
#NA-6TGG-0170
Our Price: $6,425.00
WhatsUp Gold Failover Manager 1000 New Points with 1 Year Service
#NA-67DV-0170
Our Price: $7,885.00
WhatsUp Gold Failover Manager 1500 New Points with 1 Year Service
#NA-6TYU-0170
Our Price: $8,955.00
WhatsUp Gold Failover Manager 2500 New Points with 1 Year Service
#NA-6C2E-0170
Our Price: $11,100.00
WhatsUp Gold Failover Manager Unrestricted New Points with 1 Year Service
#NA-6C2X-0170
Our Price: $13,275.00
WhatsUp Gold Failover Manager with 2 Years Service Agreement
WhatsUp Gold Failover Manager 25 New Points with 2 Years Service
#NA-6JQZ-0170
Our Price: $1,540.00
WhatsUp Gold Failover Manager 100 New Points with 2 Years Service
#NA-6JTZ-0170
Our Price: $2,240.00
WhatsUp Gold Failover Manager 300 New Points with 2 Years Service
#NA-6K5D-0170
Our Price: $4,205.00
WhatsUp Gold Failover Manager 500 New Points with 2 Years Service
#NA-6MMF-0170
Our Price: $5,960.00
WhatsUp Gold Failover Manager 750 New Points with 2 Years Service
#NA-6VFB-0170
Our Price: $7,710.00
WhatsUp Gold Failover Manager 1000 New Points with 2 Years Service
#NA-6MYC-0170
Our Price: $9,465.00
WhatsUp Gold Failover Manager 1500 New Points with 2 Years Service
#NA-6XKK-0170
Our Price: $10,750.00
WhatsUp Gold Failover Manager 2500 New Points with 2 Years Service
#NA-6QSA-0170
Our Price: $13,320.00
WhatsUp Gold Failover Manager Unrestricted New Points with 2 Years Service
WhatsUp Gold Failover Manager with 3 Years Service Agreement
WhatsUp Gold Failover Manager 25 New Points with 3 Years Service
#NA-6SXK-0170
Our Price: $1,800.00
WhatsUp Gold Failover Manager 100 New Points with 3 Years Service
#NA-6TJJ-0170
Our Price: $2,615.00
WhatsUp Gold Failover Manager 300 New Points with 3 Years Service
#NA-6UEC-0170
Our Price: $4,905.00
WhatsUp Gold Failover Manager 500 New Points with 3 Years Service
#NA-6VND-0170
Our Price: $6,950.00
WhatsUp Gold Failover Manager 750 New Points with 3 Years Service
#NA-6XKX-0170
Our Price: $8,995.00
WhatsUp Gold Failover Manager 1000 New Points with 3 Years Service
#NA-6VRG-0170
Our Price: $11,040.00
WhatsUp Gold Failover Manager 1500 New Points with 3 Years Service
#NA-6ZTT-0170
Our Price: $12,540.00
WhatsUp Gold Failover Manager 2500 New Points with 3 Years Service
WhatsUp Gold Failover Manager Unrestricted New Points with 3 Years Service
WhatsUp Gold Failover Manager Service Agreements - 1 Year
WhatsUp Gold Failover Manager 25 Service Agreement with up to 1 Year Service
#NA-728N-0170
Our Price: $260.00
WhatsUp Gold Failover Manager 100 Service Agreement with up to 1 Year Service
#NA-736Y-0170
Our Price: $375.00
WhatsUp Gold Failover Manager 300 Service Agreement with up to 1 Year Service
#NA-73UY-0170
Our Price: $705.00
WhatsUp Gold Failover Manager 500 Service Agreement with up to 1 Year Service
#NA-75KG-0170
Our Price: $995.00
WhatsUp Gold Failover Manager 750 Service Agreement with up to 1 Year Service
#NA-7TJA-0170
Our Price: $1,285.00
WhatsUp Gold Failover Manager 1000 Service Agreement with up to 1 Year Service
#NA-77YQ-0170
Our Price: $1,580.00
WhatsUp Gold Failover Manager 1500 Service Agreement with up to 1 Year Service
#NA-7V6A-0170
Our Price: $1,795.00
WhatsUp Gold Failover Manager 2500 Service Agreement with up to 1 Year Service
#NA-78NY-0170
Our Price: $2,220.00
WhatsUp Gold Failover Manager Unrestricted Service Agreement with up to 1 Year Service
#NA-7BLF-0170
Our Price: $2,655.00
WhatsUp Gold Failover Manager Service Agreements - 2 Years
WhatsUp Gold Failover Manager 25 Service Agreement with up to 2 Years Service
#NA-7CVV-0170
Our Price: $515.00
WhatsUp Gold Failover Manager 100 Service Agreement with up to 2 Years Service
#NA-7DQB-0170
Our Price: $750.00
WhatsUp Gold Failover Manager 300 Service Agreement with up to 2 Years Service
#NA-7FES-0170
Our Price: $1,405.00
WhatsUp Gold Failover Manager 500 Service Agreement with up to 2 Years Service
#NA-7L6T-0170
Our Price: $1,990.00
WhatsUp Gold Failover Manager 750 Service Agreement with up to 2 Years Service
#NA-7WCM-0170
Our Price: $2,570.00
WhatsUp Gold Failover Manager 1000 Service Agreement with up to 2 Years Service
#NA-7MAN-0170
Our Price: $3,155.00
WhatsUp Gold Failover Manager 1500 Service Agreement with up to 2 Years Service
#NA-7XTH-0170
Our Price: $3,585.00
WhatsUp Gold Failover Manager 2500 Service Agreement with up to 2 Years Service
#NA-7MRM-0170
Our Price: $4,440.00
WhatsUp Gold Failover Manager Unrestricted Service Agreement with up to 2 Years Service
#NA-7NGV-0170
Our Price: $5,310.00
WhatsUp Gold Failover Manager Service Agreements - 3 Years
WhatsUp Gold Failover Manager 25 Service Agreement with up to 3 Years Service
#NA-7QAN-0170
Our Price: $770.00
WhatsUp Gold Failover Manager 100 Service Agreement with up to 3 Years Service
#NA-7QDA-0170
Our Price: $1,120.00
WhatsUp Gold Failover Manager 300 Service Agreement with up to 3 Years Service
#NA-7SDH-0170
Our Price: $2,105.00
WhatsUp Gold Failover Manager 500 Service Agreement with up to 3 Years Service
#NA-7SMK-0170
Our Price: $2,980.00
WhatsUp Gold Failover Manager 750 Service Agreement with up to 3 Years Service
#NA-7Z8B-0170
Our Price: $3,855.00
WhatsUp Gold Failover Manager 1000 Service Agreement with up to 3 Years Service
#NA-7UAQ-0170
Our Price: $4,735.00
WhatsUp Gold Failover Manager 1500 Service Agreement with up to 3 Years Service
#NA-7ZRE-0170
Our Price: $5,375.00
WhatsUp Gold Failover Manager 2500 Service Agreement with up to 3 Years Service
#NA-7VHD-0170
Our Price: $6,660.00
WhatsUp Gold Failover Manager Unrestricted Service Agreement with up to 3 Years Service
#NA-7WHM-0170
Our Price: $7,965.00
WhatsUp Gold Failover Manager Upgrades
WhatsUp Gold Failover Manager 25 Upgrade to 100 Points
#NA-526L-0170
Our Price: $470.00
WhatsUp Gold Failover Manager 25 Upgrade to 300 Points
#NA-527Y-0170
Our Price: $1,780.00
WhatsUp Gold Failover Manager 25 Upgrade to 500 Points
#NA-55RZ-0170
Our Price: $2,945.00
WhatsUp Gold Failover Manager 25 Upgrade to 750 Points
#NA-5XZC-0170
Our Price: $4,115.00
WhatsUp Gold Failover Manager 25 Upgrade to 1000 Points
#NA-562E-0170
Our Price: $5,285.00
WhatsUp Gold Failover Manager 25 Upgrade to 1500 Points
#NA-5YFD-0170
Our Price: $6,140.00
WhatsUp Gold Failover Manager 25 Upgrade to 2500 Points
#NA-58KC-0170
Our Price: $7,855.00
WhatsUp Gold Failover Manager 25 Upgrade to Unrestricted Points
#NA-592W-0170
Our Price: $9,595.00
WhatsUp Gold Failover Manager 100 Upgrade to 300 Points
#NA-59JS-0170
Our Price: $1,310.00
WhatsUp Gold Failover Manager 100 Upgrade to 500 Points
#NA-5ACR-0170
Our Price: $2,480.00
WhatsUp Gold Failover Manager 100 Upgrade to 750 Points
#NA-5YJM-0170
Our Price: $3,650.00
WhatsUp Gold Failover Manager 100 Upgrade to 1000 Points
#NA-5CFN-0170
Our Price: $4,815.00
WhatsUp Gold Failover Manager 100 Upgrade to 1500 Points
#NA-5YLX-0170
Our Price: $5,675.00
WhatsUp Gold Failover Manager 100 Upgrade to 2500 Points
#NA-5HRZ-0170
Our Price: $7,385.00
WhatsUp Gold Failover Manager 100 Upgrade to Unrestricted Points
#NA-5JKL-0170
Our Price: $9,130.00
WhatsUp Gold Failover Manager 300 Upgrade to 500 Points
#NA-5JPR-0170
Our Price: $1,170.00
WhatsUp Gold Failover Manager 300 Upgrade to 750 Points
#NA-5YPT-0170
Our Price: $2,340.00
WhatsUp Gold Failover Manager 300 Upgrade to 1000 Points
#NA-5PNN-0170
Our Price: $3,505.00
WhatsUp Gold Failover Manager 300 Upgrade to 1500 Points
#NA-5ZEF-0170
Our Price: $4,365.00
WhatsUp Gold Failover Manager 300 Upgrade to 2500 Points
#NA-5T5G-0170
Our Price: $6,080.00
WhatsUp Gold Failover Manager 300 Upgrade to Unrestricted Points
#NA-5V4H-0170
Our Price: $7,820.00
WhatsUp Gold Failover Manager 500 Upgrade to 750 Points
#NA-5ZHL-0170
Our Price: $1,170.00
WhatsUp Gold Failover Manager 500 Upgrade to 1000 Points
#NA-5VJE-0170
Our Price: $2,340.00
WhatsUp Gold Failover Manager 500 Upgrade to 1500 Points
#NA-5ZNP-0170
Our Price: $3,195.00
WhatsUp Gold Failover Manager 500 Upgrade to 2500 Points
#NA-5W4Q-0170
Our Price: $4,910.00
WhatsUp Gold Failover Manager 500 Upgrade to Unrestricted Points
#NA-5W8A-0170
Our Price: $6,650.00
WhatsUp Gold Failover Manager 750 Upgrade to 1000 Points
#NA-583A-0170
Our Price: $1,170.00
WhatsUp Gold Failover Manager 750 Upgrade to 1500 Points
#NA-59CV-0170
Our Price: $2,030.00
WhatsUp Gold Failover Manager 750 Upgrade to 2500 Points
#NA-5CEM-0170
Our Price: $3,740.00
WhatsUp Gold Failover Manager 750 Upgrade to Unrestricted Points
#NA-5NNT-0170
Our Price: $5,485.00
WhatsUp Gold Failover Manager 1000 Upgrade to 1500 Points
#NA-5ZWQ-0170
Our Price: $860.00
WhatsUp Gold Failover Manager 1000 Upgrade to 2500 Points
#NA-5X8L-0170
Our Price: $2,575.00
WhatsUp Gold Failover Manager 1000 Upgrade to Unrestricted Points
#NA-5XWU-0170
Our Price: $4,315.00
WhatsUp Gold Failover Manager 1500 Upgrade to 2500 Points
#NA-5GTF-0170
Our Price: $1,715.00
WhatsUp Gold Failover Manager 1500 Upgrade to Unrestricted Points
#NA-5VMQ-0170
Our Price: $3,460.00
WhatsUp Gold Failover Manager 2500 Upgrade to Unrestricted Points
#NA-5ZTJ-0170
Our Price: $1,745.00