WhatsUp Gold AlertFox End-User Monitor
Real-Time Web Uptime and Performance Monitoring
Progress Products
AlertFox End User Monitoring, New Customers
AlertFox End User Monitoring PRO1 New Account, 1 Year
#IO-6100-0000
Our Price: $1,188.00
AlertFox End User Monitoring PRO1 New Account - 1 Month Subscription
#IO-6101-0000
Our Price: $99.00
AlertFox End User Monitoring PRO1 Subscription Renewal - 1 Year Subscription
#IO-7100-0000
Our Price: $1,188.00
AlertFox End User Monitoring PRO1 Upgrade to PRO2 - 1 Year Subscription
#IO-5000-0000
Our Price: $2,148.00
AlertFox End User Monitoring PRO1 Upgrade to PRO3 - 1 Year Subscription
#IO-5001-0000
Our Price: $3,588.00
More pricing below, click here!
Overview:
What can you do with AlertFox?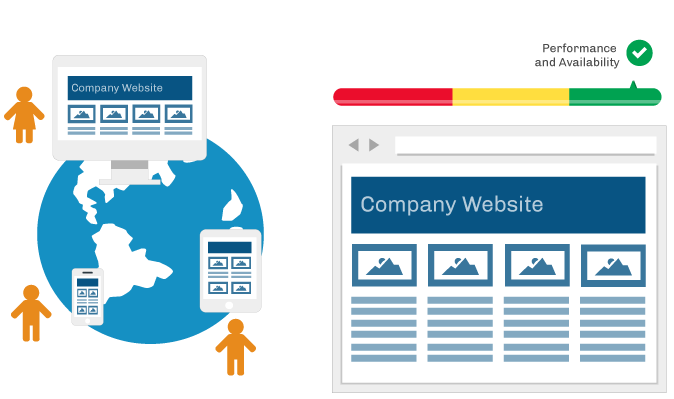 Monitor your website or web application
AlertFox monitors the uptime and performance of your website, not just letting you know that it's available but also informing you if delays exist in different customer interaction points such as an e-commerce checkout, portal login, or rich internet app errors.
With global monitoring points in the United States, Europe, and Asia, AlertFox makes it easy for you to ensure a quality customer experience.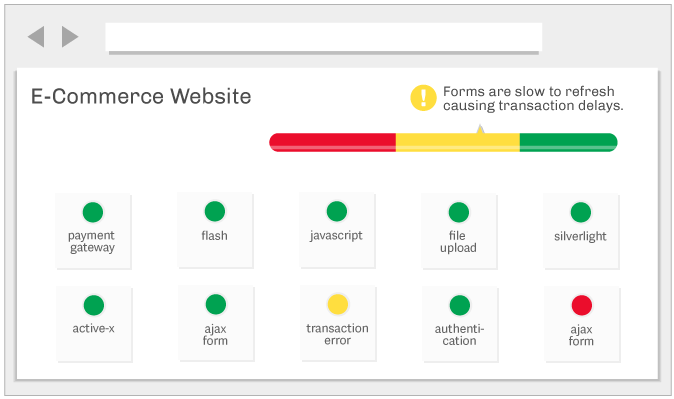 In-depth Monitoring
AlertFox can monitor your complex transactions from end-to-end, letting you know what's working as planned, and what's causing a delay.
This kind of detailed information makes it easy for you to find and troubleshoot web problems as well as ensure a quality experience for your website visitors.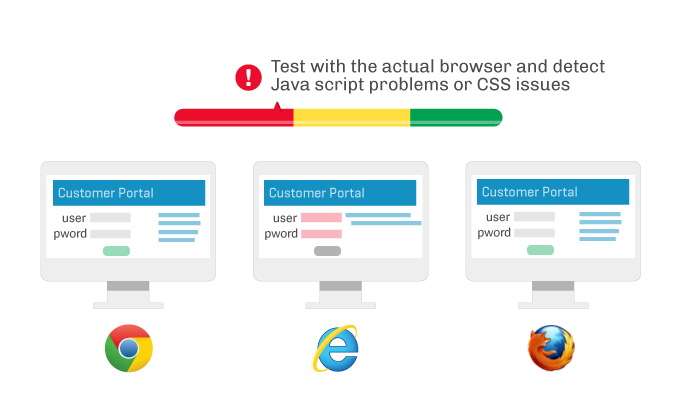 See what your customers see
With real browser monitoring, AlertFox makes it easy for you track and monitor your website experience from your customer's point of view.
You know immediately when there's a problem that negatively effects your customer's experience. This type of detailed information makes it easy for your team to find and fix browser related problems.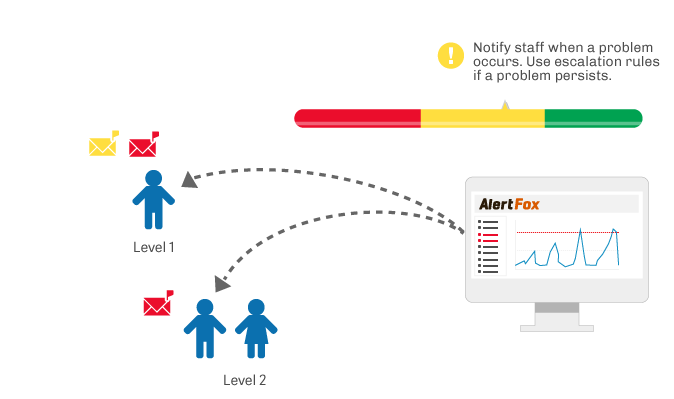 Real-time alerts & notifications
You know first. The moment a transaction outage or slowdown occurs, AlertFox sends email or SMS notifications to your designated team members.
You can even prioritize and monitor what's important first, configuring custom alerts for each transaction, and setting custom escalation rules if a problem persists.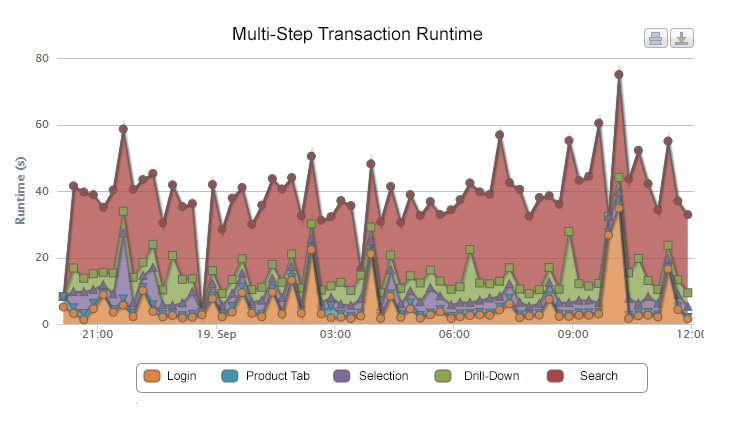 In-depth performance reporting
Real-time, intuitive reports make it easy to see how simple and complex web transactions are performing
When a delay occurs, AlertFox shows you see exactly what step in the transaction is causing the delay, providing your team with the information they need to more readily find and fix the problem.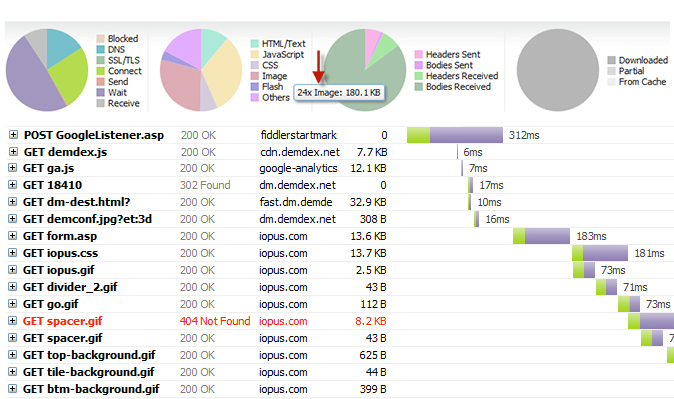 Root cause analysis
Detailed reports, including AlertFox's waterfall diagram show you when something is missing or what's potentially the root cause of a delay.
With this detailed information, your team can act quickly - fixing the problem at hand or establishing a workaround that ensures a quality customer experience.
Features:
With AlertFox you get all the tools you need to verify website uptime and performance. From monitoring complex technologies like Ajax or Silverlight, to third-party integrations like video or social apps, we make it easy for you to stay on top of your website performance, get notified the moment a slowdown or outage occurs, and find what's not working fast with our in-depth reports. We even provide meaningful insight into your actual customer experience with our real browser monitoring – supporting Internet Explorer, Firefox, and Chrome.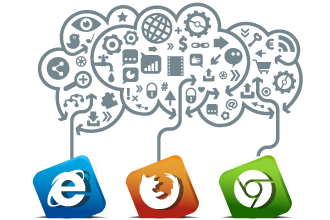 AlertFox features & functionality
AlertFox includes a rich set of features to ensure what you monitor is as true your customer experience as possible.
See exactly what your customers see with our real browser monitoring in Internet Explorer, Chrome, and Firefox
Use our WYSIWYG/intuitive toolset to capture and create monitored transactions
Easily customize monitoring intervals, transaction timeout values and retries for each transaction
Stay on top of changing environments, edit transactions on the fly
Need a quick look at whats going on? Run transaction monitoring on-demand
Ensure access from anywhere by monitoring from multiple global locations (North America, Europe, and Asia)
Need to know what happened last month? Historic data is at your fingertips with 60-day data retention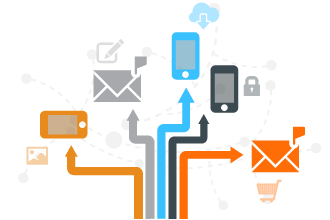 You know first: AlertFox alerts & notifications
Know a problem exists before your users do. Receive real-time alerts on everthing that's important to you from slow response time, image failures, rich Internet apps errors and much more.
Receive real-time email or SMS based notifications the moment a slowdown or outage occurs
Stay on top of Web performance, receive alerts on errors, delays, and on recovery
Make sure everyone is in the loop, configure unlimited contacts for notifications
Prioritize and monitor what's important first, configure custom alerts for each transaction
Assign notifications to the right team member, set custom notification escalation rules
Review past problems or concerns with a detailed alert log
Technologies monitored by AlertFox
Today's Website and Web applications rely on a broad range of technologies to provide a great customer experience. AlertFox makes it easy for you to ensure your website is working as planned.
Flash*
Java*
Ajax*
Silverlight*
ActiveX*
HTTP/HTTPS
HTML5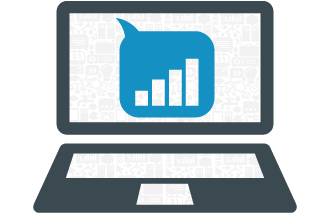 AlertFox reporting & troubleshooting
Use AlertFox to track and troubleshoot real-time performance and availability with detailed, actionable reports.
For every monitored transaction, view real-time and historical performance and availability reports
Organize the display of data so that it makes sense to you, configure custom time frames as needed
View reports online or export to CSV if you prefer
Simplify management, receive automated daily, weekly, and monthly reports by email
Share reports with everyone that needs to see them
Automatically capture screen shots of errors or failures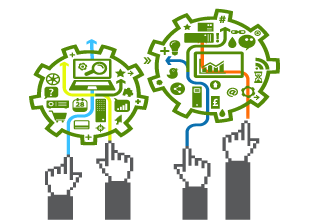 AlertFox: Console access & administration
Use an intuitive interface to provide access to team members and interested parties.
Different user profiles make it easy to assign admin or read-only roles, as needed
Easy to use interface provides immediate access to all transaction performance and uptime data
Use the built-in public dashboard to share data with a larger audience
Benefits:
Tired of Customer or Employee Complaints About Slow Website Response?
Web applications are pervasive throughout your organization. For example, your website may be the face of your business – primary studies show that poorly performing websites lead to lost revenue and can negatively affect your brand image. Additionally, most business applications today are web-based. Under-performing business applications directly lower productivity and employee experience.
AlertFox EUM provides the ability to experience the performance of mission-critical Web applications and websites from your end-user's perspective – thereby protecting your brand, increasing user satisfaction, detecting malicious content on your website, and simplifying your life. And with minimal hardware to configure, you can prevent Web performance problems by continuously monitoring your internal and external Web applications accurately and easily from the Cloud or inside your own network.
With AlertFox EUM you will:
Deliver Highest Quality End-User Experience
Ensure customers and employees can successfully access and interact with mission-critical applications, such as your external websites (e.g. customer shopping carts, product catalogs) or your internal Web applications (e.g. CRM, ERP, account access)
Provide a quality web experience from start to finish
Minimize Web Application Downtime and Optimize Web Application Performance
Simplify troubleshooting tasks by visualizing the errors your users see with AlertFox's Image Capture technology
Quickly zero-in on the root cause of a "slow application" to the most granular level to resolve intermittent and unseen issues with your Web applications
Increase Efficiency (Across It, Internal Users, Partners, Etc.)
Troubleshoot and resolve Web application problems faster
Immediately discover performance problems of your internal and external Web applications before receiving an initial customer or employee complaint
Ensure Productivity
Understand and report on the ongoing performance of your internal and external Web applications
Provide actionable information to your line of business counterparts and communicate issues by routing alerts to the team as soon as possible
System Requirements:
Internet access to your AlertFox account in the Cloud, and:
OS
System:
Dedicated virtual machine (VMware or Virtual Box) 
Browsers:
Pricing Notes:
Pricing and product availability subject to change without notice.
Progress Products
AlertFox End User Monitoring, New Customers
AlertFox End User Monitoring PRO1 New Account, 1 Year
#IO-6100-0000
Our Price: $1,188.00
AlertFox End User Monitoring PRO1 New Account - 1 Month Subscription
#IO-6101-0000
Our Price: $99.00
AlertFox End User Monitoring PRO1 Subscription Renewal - 1 Year Subscription
#IO-7100-0000
Our Price: $1,188.00
AlertFox End User Monitoring PRO1 Upgrade to PRO2 - 1 Year Subscription
#IO-5000-0000
Our Price: $2,148.00
AlertFox End User Monitoring PRO1 Upgrade to PRO3 - 1 Year Subscription
#IO-5001-0000
Our Price: $3,588.00
Progress AlertFox End User Monitoring PRO2
AlertFox End User Monitoring PRO2 New Account, 1 Year
#IO-6105-0000
Our Price: $2,148.00
AlertFox End User Monitoring PRO2 New Account - 1 Month Subscription
#IO-6106-0000
Our Price: $179.00
AlertFox End User Monitoring PRO2 Subscription Renewal - 1 Year Subscription
#IO-7105-0000
Our Price: $2,148.00
AlertFox End User Monitoring PRO2 Upgrade to PRO3 - 1 Year Subscription
#IO-5002-0000
Our Price: $3,588.00
Progress AlertFox End User Monitoring PRO3
AlertFox End User Monitoring PRO3 New Account - 1 Year Subscription
#IO-6110-0000
Our Price: $3,588.00
AlertFox End User Monitoring PRO3 New Account - 1 Month Subscription
#IO-6111-0000
Our Price: $299.00
AlertFox End User Monitoring PRO3 Subscription Renewal - 1 Year Subscription
#IO-7110-0000
Our Price: $3,588.00
AlertFox End User Monitoring PRO3 Transaction Test Add-on - 1 Month Subscription
#IO-3001-0000
Our Price: $25.00
AlertFox End User Monitoring PRO3 Transaction Test Add-on - 2 Month Subscription
#IO-3002-0000
Our Price: $50.00
AlertFox End User Monitoring PRO3 Transaction Test Add-on - 3 Month Subscription
#IO-3003-0000
Our Price: $75.00
AlertFox End User Monitoring PRO3 Transaction Test Add-on - 4 Month Subscription
#IO-3004-0000
Our Price: $100.00
AlertFox End User Monitoring PRO3 Transaction Test Add-on - 5 Month Subscription
#IO-3005-0000
Our Price: $125.00
AlertFox End User Monitoring PRO3 Transaction Test Add-on - 6 Month Subscription
#IO-3006-0000
Our Price: $150.00
AlertFox End User Monitoring PRO3 Transaction Test Add-on - 7 Month Subscription
#IO-3007-0000
Our Price: $175.00
AlertFox End User Monitoring PRO3 Transaction Test Add-on - 8 Month Subscription
#IO-3008-0000
Our Price: $200.00
AlertFox End User Monitoring PRO3 Transaction Test Add-on - 9 Month Subscription
#IO-3009-0000
Our Price: $225.00
AlertFox End User Monitoring PRO3 Transaction Test Add-on - 10 Month Subscription
#IO-3010-0000
Our Price: $250.00
AlertFox End User Monitoring PRO3 Transaction Test Add-on - 11 Month Subscription
#IO-3011-0000
Our Price: $275.00
AlertFox End User Monitoring PRO3 Transaction Test Add-on - 1 Year Subscription
#IO-3012-0000
Our Price: $300.00
Progress AlertFox SMS Alert Notification
AlertFox SMS Alert Notification - 200 SMS Credits
#IO-6112-0000
Our Price: $25.00
AlertFox SMS Alert Notification - 1000 SMS Credits
#IO-6113-0000
Our Price: $100.00