Progress WhatsUp Gold Virtualization Monitoring

Monitor VMware and Hyper-V Virtual Infrastructures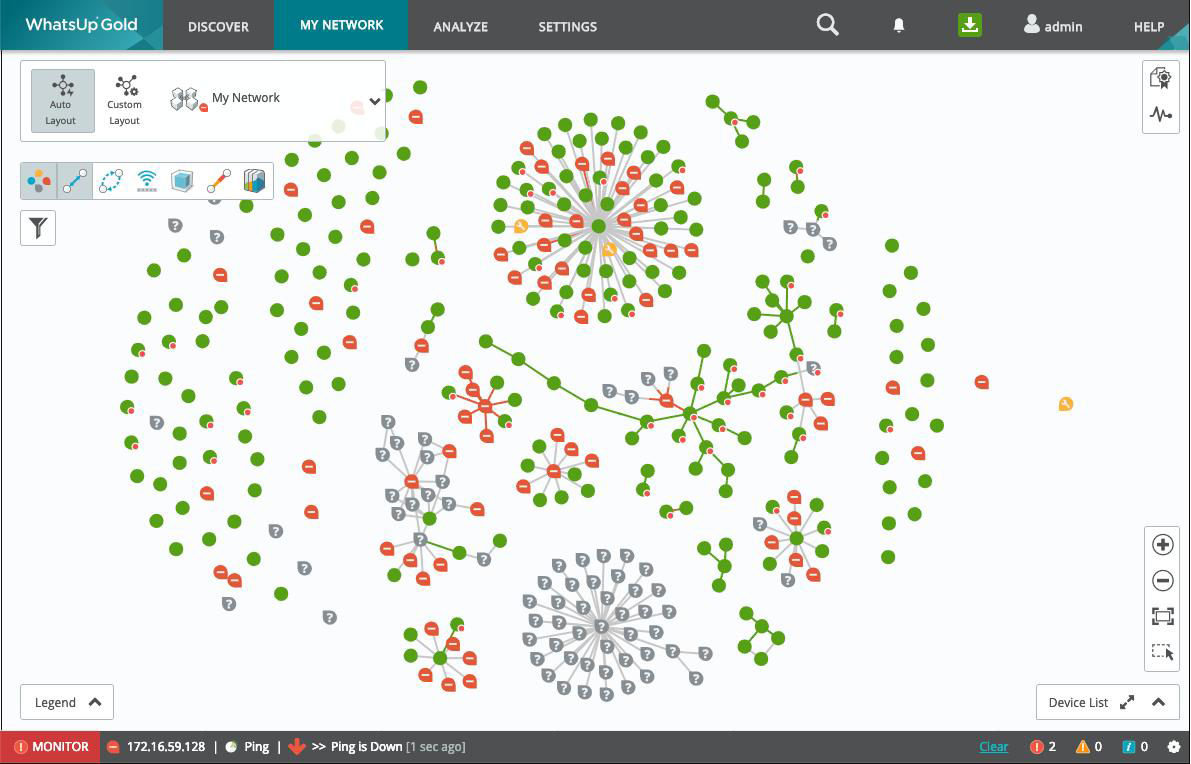 WhatsUp Gold Virtual Monitoring 25 New Devices with 1 Year Service
#NA-6M7L-0170
Our Price: $1,865.00
Virtualization Monitoring is available as an add-on to WhatsUp Gold's Premium, MSP and Distributed editions and is included in the Total Plus edition.
Click here to jump to more pricing!
Overview:
WhatsUp Gold discovers, maps and monitors your virtual infrastructure. Set alert thresholds for resource consumption of hosts and guests. See your virtual infrastructure in the context of its physical hosts.
Monitor workloads, physical and virtual servers from a unified dashboard. Automatically discover and map your VMware and Hyper-V virtual environments including clusters, resources, hosts and guests. Track VM migrations and understand virtual-to-physical relationships.
Features:
Discover Your Virtual Infrastructure
Get real-time and historical visibility into the performance of your virtual infrastructure in the context of the entire IT infrastructure – networks, physical servers and applications. Our Virtualization Monitoring feature discovers, maps, monitors, alerts and reports on VMware and Hyper-V performance for hosts and guests and clusters on the network.
Map Your Virtual Infrastructure
Automatically generate dynamic maps of your Hyper-V and VMware infrastructure, displaying hosts and guests, host/guest relationships, clusters, and real-time status.
With a single click, drill down to view performance data on any virtual resource on the map.
Monitor Your Virtual Infrastructure
Monitor VMware and Hyper-V in real-time to keep an up-to-date list of all hosts and attributes. Monitor the performance and resource consumption of hosts and guests, including CPU, Memory, Disk and Interface Utilization and the availability and performance of servers and tracks live migrations.
While Virtualization Monitoring is automatically set to poll every minute, system admins can customize their polling cycles to meet their specific needs. An event log provides a record of events generated from virtual devices.
Alert on Your Virtual Infrastructure
Generate threshold-based alerts on CPU, memory, disk and interface utilization on virtual machines and events including virtual machine status,  security related events and any alert generating an event log.
Alerts are sent via Email, SMS or log files and integrated into the WhatsUp Gold Alert Center - a single source for managing alerts across your entire IT environment.
Leverage VMware and Hyper-V management actions to power on/off, suspend, rest and lockdown guest machines in their virtual infrastructure directly from the WhatsUp Gold console.
Report on Your Virtual Infrastructure
Out-of-the-box reports include:
Virtual Hosts (all hosts discovered on the network)
Virtual Server Attributes (VIM and API versions, number of CPU cores, packages and threads; virtual machines, powered on and off, and suspended)
Virtual Machine Current CPU, Memory, Disk and Interface Utilization reports.
Virtualization reports can be integrated into customized end-to-end dashboards of the entire IT infrastructure. IT staff can create a single dashboard view of their wired and wireless network, physical and virtual servers, and applications to quickly assess the health of their entire IT infrastructure and to identify and fix problems before they impact user, applications or the business.
Pricing Notes:
Pricing and product availability subject to change without notice.
Progress Products
WhatsUp Gold Virtual Monitoring with 1 Year Service Agreement
WhatsUp Gold Virtual Monitoring 25 New Devices with 1 Year Service
#NA-6M7L-0170
Our Price: $1,865.00
WhatsUp Gold Virtual Monitoring 50 New Devices with 1 Year Service
#NA-6MJF-0170
Our Price: $2,240.00
WhatsUp Gold Virtual Monitoring 100 New Devices with 1 Year Service
#NA-6MMA-0170
Our Price: $2,740.00
WhatsUp Gold Virtual Monitoring 200 New Devices with 1 Year Service
#NA-6MPR-0170
Our Price: $3,735.00
WhatsUp Gold Virtual Monitoring 300 New Devices with 1 Year Service
#NA-6MTV-0170
Our Price: $4,485.00
WhatsUp Gold Virtual Monitoring 500 New Devices with 1 Year Service
#NA-6N0E-0170
Our Price: $4,980.00
WhatsUp Gold Virtual Monitoring 750 New Devices with 1 Year Service
#NA-62FD-0170
Our Price: $5,605.00
WhatsUp Gold Virtual Monitoring 1000 New Devices with 1 Year Service
#NA-6N5O-0170
Our Price: $6,230.00
WhatsUp Gold Virtual Monitoring 1500 New Devices with 1 Year Service
#NA-676Y-0170
Our Price: $6,645.00
WhatsUp Gold Virtual Monitoring 2500 New Devices with 1 Year Service
#NA-6NFS-0170
Our Price: $7,475.00
WhatsUp Gold Virtual Monitoring Unrestricted New Devices with 1 Year Service
#NA-6PFW-0170
Our Price: $12,460.00
WhatsUp Gold Virtual Monitoring with 2 Years Service Agreement
WhatsUp Gold Virtual Monitoring 25 New Devices with 2 Years Service
#NA-6MHY-0170
Our Price: $2,330.00
WhatsUp Gold Virtual Monitoring 50 New Devices with 2 Years Service
#NA-6MLP-0170
Our Price: $2,800.00
WhatsUp Gold Virtual Monitoring 100 New Devices with 2 Years Service
#NA-6MOW-0170
Our Price: $3,425.00
WhatsUp Gold Virtual Monitoring 200 New Devices with 2 Years Service
#NA-6MRR-0170
Our Price: $4,670.00
WhatsUp Gold Virtual Monitoring 300 New Devices with 2 Years Service
#NA-6MXI-0170
Our Price: $5,605.00
WhatsUp Gold Virtual Monitoring 500 New Devices with 2 Years Service
#NA-6N0T-0170
Our Price: $6,225.00
WhatsUp Gold Virtual Monitoring 750 New Devices with 2 Years Service
#NA-6C2Y-0170
Our Price: $7,005.00
WhatsUp Gold Virtual Monitoring 1000 New Devices with 2 Years Service
#NA-6N6D-0170
Our Price: $7,785.00
WhatsUp Gold Virtual Monitoring 1500 New Devices with 2 Years Service
#NA-6P7U-0170
Our Price: $8,305.00
WhatsUp Gold Virtual Monitoring 2500 New Devices with 2 Years Service
#NA-6NGB-0170
Our Price: $9,345.00
WhatsUp Gold Virtual Monitoring Unrestricted New Devices with 2 Years Service
WhatsUp Gold Virtual Monitoring with 3 Years Service Agreement
WhatsUp Gold Virtual Monitoring 25 New Devices with 3 Years Service
#NA-62ZQ-0170
Our Price: $2,800.00
WhatsUp Gold Virtual Monitoring 50 New Devices with 3 Years Service
#NA-69LX-0170
Our Price: $3,360.00
WhatsUp Gold Virtual Monitoring 100 New Devices with 3 Years Service
#NA-6B6N-0170
Our Price: $4,105.00
WhatsUp Gold Virtual Monitoring 200 New Devices with 3 Years Service
#NA-6CAW-0170
Our Price: $5,605.00
WhatsUp Gold Virtual Monitoring 300 New Devices with 3 Years Service
#NA-6CDC-0170
Our Price: $6,725.00
WhatsUp Gold Virtual Monitoring 500 New Devices with 3 Years Service
#NA-6FHL-0170
Our Price: $7,470.00
WhatsUp Gold Virtual Monitoring 750 New Devices with 3 Years Service
#NA-6RVK-0170
Our Price: $8,405.00
WhatsUp Gold Virtual Monitoring 1000 New Devices with 3 Years Service
#NA-6GDD-0170
Our Price: $9,340.00
WhatsUp Gold Virtual Monitoring 1500 New Devices with 3 Years Service
#NA-6SWE-0170
Our Price: $9,965.00
WhatsUp Gold Virtual Monitoring 2500 New Devices with 3 Years Service
#NA-6JPY-0170
Our Price: $11,210.00
WhatsUp Gold Virtual Monitoring Unrestricted New Devices with 3 Years Service
WhatsUp Gold Virtual Monitoring Service Agreements - 1 Year
WhatsUp Gold Virtual Monitoring 25 Service Agreement with up to 1 Year Service
#NA-7ONE-0170
Our Price: $470.00
WhatsUp Gold Virtual Monitoring 50 Service Agreement with up to 1 Year Service
#NA-7OYY-0170
Our Price: $560.00
WhatsUp Gold Virtual Monitoring 100 Service Agreement with up to 1 Year Service
#NA-7PBN-0170
Our Price: $685.00
WhatsUp Gold Virtual Monitoring 200 Service Agreement with up to 1 Year Service
#NA-7PTS-0170
Our Price: $935.00
WhatsUp Gold Virtual Monitoring 300 Service Agreement with up to 1 Year Service
#NA-7QLY-0170
Our Price: $1,125.00
WhatsUp Gold Virtual Monitoring 500 Service Agreement with up to 1 Year Service
#NA-7QWQ-0170
Our Price: $1,250.00
WhatsUp Gold Virtual Monitoring 750 Service Agreement with up to 1 Year Service
#NA-726G-0170
Our Price: $1,405.00
WhatsUp Gold Virtual Monitoring 1000 Service Agreement with up to 1 Year Service
#NA-7R7H-0170
Our Price: $1,560.00
WhatsUp Gold Virtual Monitoring 1500 Service Agreement with up to 1 Year Service
#NA-739H-0170
Our Price: $1,665.00
WhatsUp Gold Virtual Monitoring 2500 Service Agreement with up to 1 Year Service
#NA-7RIR-0170
Our Price: $1,870.00
WhatsUp Gold Virtual Monitoring Unrestricted Service Agreement with up to 1 Year Service
#NA-7GBT-0170
Our Price: $3,115.00
WhatsUp Gold Virtual Monitoring Service Agreements - 2 Years
WhatsUp Gold Virtual Monitoring 25 Service Agreement with up to 2 Years Service
#NA-7OOU-0170
Our Price: $935.00
WhatsUp Gold Virtual Monitoring 50 Service Agreement with up to 2 Years Service
#NA-7P0S-0170
Our Price: $1,120.00
WhatsUp Gold Virtual Monitoring 100 Service Agreement with up to 2 Years Service
#NA-7PCI-0170
Our Price: $1,370.00
WhatsUp Gold Virtual Monitoring 200 Service Agreement with up to 2 Years Service
#NA-7Q0W-0170
Our Price: $1,870.00
WhatsUp Gold Virtual Monitoring 300 Service Agreement with up to 2 Years Service
#NA-7QOO-0170
Our Price: $2,245.00
WhatsUp Gold Virtual Monitoring 500 Service Agreement with up to 2 Years Service
#NA-7QXE-0170
Our Price: $2,495.00
WhatsUp Gold Virtual Monitoring 750 Service Agreement with up to 2 Years Service
#NA-748E-0170
Our Price: $2,805.00
WhatsUp Gold Virtual Monitoring 1000 Service Agreement with up to 2 Years Service
#NA-7R8E-0170
Our Price: $3,115.00
WhatsUp Gold Virtual Monitoring 1500 Service Agreement with up to 2 Years Service
#NA-78HU-0170
Our Price: $3,325.00
WhatsUp Gold Virtual Monitoring 2500 Service Agreement with up to 2 Years Service
#NA-7RLR-0170
Our Price: $3,740.00
WhatsUp Gold Virtual Monitoring Unrestricted Service Agreement with up to 2 Years Service
#NA-7H4U-0170
Our Price: $6,230.00
WhatsUp Gold Virtual Monitoring Service Agreements - 3 Years
WhatsUp Gold Virtual Monitoring 25 Service Agreement with up to 3 Years Service
#NA-7D9Q-0170
Our Price: $1,400.00
WhatsUp Gold Virtual Monitoring 50 Service Agreement with up to 3 Years Service
#NA-7DZL-0170
Our Price: $1,680.00
WhatsUp Gold Virtual Monitoring 100 Service Agreement with up to 3 Years Service
#NA-7PBA-0170
Our Price: $2,055.00
WhatsUp Gold Virtual Monitoring 200 Service Agreement with up to 3 Years Service
#NA-7PYV-0170
Our Price: $2,805.00
WhatsUp Gold Virtual Monitoring 300 Service Agreement with up to 3 Years Service
#NA-7Q2U-0170
Our Price: $3,365.00
WhatsUp Gold Virtual Monitoring 500 Service Agreement with up to 3 Years Service
#NA-7RDQ-0170
Our Price: $3,740.00
WhatsUp Gold Virtual Monitoring 750 Service Agreement with up to 3 Years Service
#NA-7CLM-0170
Our Price: $4,205.00
WhatsUp Gold Virtual Monitoring 1000 Service Agreement with up to 3 Years Service
#NA-7TME-0170
Our Price: $4,675.00
WhatsUp Gold Virtual Monitoring 1500 Service Agreement with up to 3 Years Service
#NA-7QUN-0170
Our Price: $4,985.00
WhatsUp Gold Virtual Monitoring 2500 Service Agreement with up to 3 Years Service
#NA-7TVA-0170
Our Price: $5,605.00
WhatsUp Gold Virtual Monitoring Unrestricted Service Agreement with up to 3 Years Service
#NA-7UBZ-0170
Our Price: $9,345.00
WhatsUp Gold Virtual Monitoring Upgrades
WhatsUp Gold Virtual Monitoring 25 Upgrade to Virtual Monitoring 50
#NA-5FHU-0170
Our Price: $280.00
WhatsUp Gold Virtual Monitoring 25 Upgrade to Virtual Monitoring 100
#NA-5G4V-0170
Our Price: $655.00
WhatsUp Gold Virtual Monitoring 25 Upgrade to Virtual Monitoring 200
#NA-5GGN-0170
Our Price: $1,405.00
WhatsUp Gold Virtual Monitoring 25 Upgrade to Virtual Monitoring 300
#NA-5GRM-0170
Our Price: $1,965.00
WhatsUp Gold Virtual Monitoring 25 Upgrade to Virtual Monitoring 500
#NA-5HDP-0170
Our Price: $2,340.00
WhatsUp Gold Virtual Monitoring 25 Upgrade to Virtual Monitoring 750
#NA-52NP-0170
Our Price: $2,805.00
WhatsUp Gold Virtual Monitoring 25 Upgrade to Virtual Monitoring 1000
#NA-5HMD-0170
Our Price: $3,275.00
WhatsUp Gold Virtual Monitoring 25 Upgrade to Virtual Monitoring 1500
#NA-58QU-0170
Our Price: $3,585.00
WhatsUp Gold Virtual Monitoring 25 Upgrade to Virtual Monitoring 2500
#NA-5HPW-0170
Our Price: $4,210.00
WhatsUp Gold Virtual Monitoring 25 Upgrade to Virtual Monitoring Unrestricted
#NA-5HSA-0170
Our Price: $7,945.00
WhatsUp Gold Virtual Monitoring 50 Upgrade to Virtual Monitoring 100
#NA-5HUR-0170
Our Price: $375.00
WhatsUp Gold Virtual Monitoring 50 Upgrade to Virtual Monitoring 200
#NA-5JHQ-0170
Our Price: $1,125.00
WhatsUp Gold Virtual Monitoring 50 Upgrade to Virtual Monitoring 300
#NA-5JJM-0170
Our Price: $1,685.00
WhatsUp Gold Virtual Monitoring 50 Upgrade to Virtual Monitoring 500
#NA-5JLX-0170
Our Price: $2,060.00
WhatsUp Gold Virtual Monitoring 50 Upgrade to Virtual Monitoring 750
#NA-5AJF-0170
Our Price: $2,525.00
WhatsUp Gold Virtual Monitoring 50 Upgrade to Virtual Monitoring 1000
#NA-5JZY-0170
Our Price: $2,995.00
WhatsUp Gold Virtual Monitoring 50 Upgrade to Virtual Monitoring 1500
#NA-5AZJ-0170
Our Price: $3,305.00
WhatsUp Gold Virtual Monitoring 50 Upgrade to Virtual Monitoring 2500
#NA-5KGL-0170
Our Price: $3,930.00
WhatsUp Gold Virtual Monitoring 50 Upgrade to Virtual Monitoring Unrestricted
#NA-5KVR-0170
Our Price: $7,670.00
WhatsUp Gold Virtual Monitoring 100 Upgrade to Virtual Monitoring 200
#NA-5LMC-0170
Our Price: $750.00
WhatsUp Gold Virtual Monitoring 100 Upgrade to Virtual Monitoring 300
#NA-5LSM-0170
Our Price: $1,310.00
WhatsUp Gold Virtual Monitoring 100 Upgrade to Virtual Monitoring 500
#NA-5N6Y-0170
Our Price: $1,685.00
WhatsUp Gold Virtual Monitoring 100 Upgrade to Virtual Monitoring 750
#NA-5BJF-0170
Our Price: $2,150.00
WhatsUp Gold Virtual Monitoring 100 Upgrade to Virtual Monitoring 1000
#NA-5PRJ-0170
Our Price: $2,620.00
WhatsUp Gold Virtual Monitoring 100 Upgrade to Virtual Monitoring 1500
#NA-5BMJ-0170
Our Price: $2,930.00
WhatsUp Gold Virtual Monitoring 100 Upgrade to Virtual Monitoring 2500
#NA-5RUY-0170
Our Price: $3,555.00
WhatsUp Gold Virtual Monitoring 100 Upgrade to Virtual Monitoring Unrestricted
#NA-5S2C-0170
Our Price: $7,295.00
WhatsUp Gold Virtual Monitoring 200 Upgrade to Virtual Monitoring 300
#NA-5SSA-0170
Our Price: $565.00
WhatsUp Gold Virtual Monitoring 200 Upgrade to Virtual Monitoring 500
#NA-5U2T-0170
Our Price: $935.00
WhatsUp Gold Virtual Monitoring 200 Upgrade to Virtual Monitoring 750
#NA-5BWB-0170
Our Price: $1,405.00
WhatsUp Gold Virtual Monitoring 200 Upgrade to Virtual Monitoring 1000
#NA-5U7M-0170
Our Price: $1,870.00
WhatsUp Gold Virtual Monitoring 200 Upgrade to Virtual Monitoring 1500
#NA-5CEE-0170
Our Price: $2,185.00
WhatsUp Gold Virtual Monitoring 200 Upgrade to Virtual Monitoring 2500
#NA-5U7V-0170
Our Price: $2,805.00
WhatsUp Gold Virtual Monitoring 200 Upgrade to Virtual Monitoring Unrestricted
#NA-5UCG-0170
Our Price: $6,545.00
WhatsUp Gold Virtual Monitoring 300 Upgrade to Virtual Monitoring 500
#NA-5VAT-0170
Our Price: $375.00
WhatsUp Gold Virtual Monitoring 300 Upgrade to Virtual Monitoring 750
#NA-5FQU-0170
Our Price: $845.00
WhatsUp Gold Virtual Monitoring 300 Upgrade to Virtual Monitoring 1000
#NA-5VYP-0170
Our Price: $1,310.00
WhatsUp Gold Virtual Monitoring 300 Upgrade to Virtual Monitoring 1500
#NA-5HXT-0170
Our Price: $1,625.00
WhatsUp Gold Virtual Monitoring 300 Upgrade to Virtual Monitoring 2500
#NA-5WKA-0170
Our Price: $2,245.00
WhatsUp Gold Virtual Monitoring 300 Upgrade to Virtual Monitoring Unrestricted
#NA-5WLY-0170
Our Price: $5,985.00
WhatsUp Gold Virtual Monitoring 500 Upgrade to Virtual Monitoring 750
#NA-5KGV-0170
Our Price: $470.00
WhatsUp Gold Virtual Monitoring 500 Upgrade to Virtual Monitoring 1000
#NA-5WNG-0170
Our Price: $935.00
WhatsUp Gold Virtual Monitoring 500 Upgrade to Virtual Monitoring 1500
#NA-5LSP-0170
Our Price: $1,250.00
WhatsUp Gold Virtual Monitoring 500 Upgrade to Virtual Monitoring 2500
#NA-5X6G-0170
Our Price: $1,870.00
WhatsUp Gold Virtual Monitoring 500 Upgrade to Virtual Monitoring Unrestricted
#NA-5XCN-0170
Our Price: $5,610.00
WhatsUp Gold Virtual Monitoring 750 Upgrade to Virtual Monitoring 1000
#NA-5P7F-0170
Our Price: $470.00
WhatsUp Gold Virtual Monitoring 750 Upgrade to Virtual Monitoring 1500
#NA-5R7P-0170
Our Price: $780.00
WhatsUp Gold Virtual Monitoring 750 Upgrade to Virtual Monitoring 2500
#NA-5SKH-0170
Our Price: $1,405.00
WhatsUp Gold Virtual Monitoring 750 Upgrade to Virtual Monitoring Unrestricted
#NA-5YGT-0170
Our Price: $5,145.00
WhatsUp Gold Virtual Monitoring 1000 Upgrade to Virtual Monitoring 2500
#NA-5YAJ-0170
Our Price: $935.00
WhatsUp Gold Virtual Monitoring 1000 Upgrade to Virtual Monitoring Unrestricted
#NA-5YSU-0170
Our Price: $4,675.00
WhatsUp Gold Virtual Monitoring 1500 Upgrade to Virtual Monitoring 2500
#NA-5Z6R-0170
Our Price: $315.00
WhatsUp Gold Virtual Monitoring 1500 Upgrade to Virtual Monitoring Unrestricted
#NA-5ZGP-0170
Our Price: $4,207.50
WhatsUp Gold Virtual Monitoring 2500 Upgrade to Virtual Monitoring Unrestricted
#NA-5YUH-0170
Our Price: $3,740.00