Progress WhatsUp Gold Virtualization Monitoring

Monitor VMware and Hyper-V Virtual Infrastructures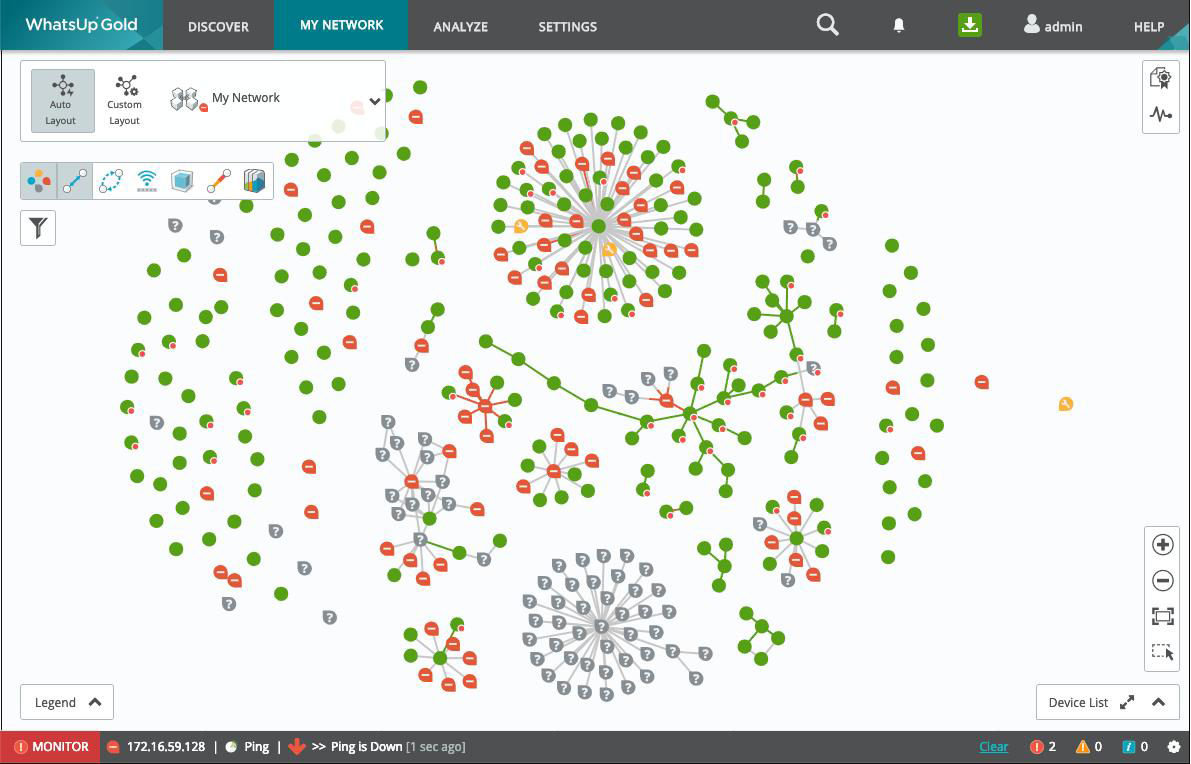 WhatsUp Gold Virtual Monitoring 25 New Devices with 1 Year Service
#NA-6M7L-0170
Our Price: $1,865.00
Virtualization Monitoring is available as an add-on to WhatsUp Gold's Premium, MSP and Distributed editions and is included in the Total Plus edition.
Click here to jump to more pricing!
Overview:
WhatsUp Gold discovers, maps and monitors your virtual infrastructure. Set alert thresholds for resource consumption of hosts and guests. See your virtual infrastructure in the context of its physical hosts.
Monitor workloads, physical and virtual servers from a unified dashboard. Automatically discover and map your VMware and Hyper-V virtual environments including clusters, resources, hosts and guests. Track VM migrations and understand virtual-to-physical relationships.
Pricing Notes:
Pricing and product availability subject to change without notice.
Progress Products
WhatsUp Gold Virtual Monitoring with 1 Year Service Agreement
WhatsUp Gold Virtual Monitoring 25 New Devices with 1 Year Service
#NA-6M7L-0170
Our Price: $1,865.00
WhatsUp Gold Virtual Monitoring 50 New Devices with 1 Year Service
#NA-6MJF-0170
Our Price: $2,240.00
WhatsUp Gold Virtual Monitoring 100 New Devices with 1 Year Service
#NA-6MMA-0170
Our Price: $2,740.00
WhatsUp Gold Virtual Monitoring 200 New Devices with 1 Year Service
#NA-6MPR-0170
Our Price: $3,735.00
WhatsUp Gold Virtual Monitoring 300 New Devices with 1 Year Service
#NA-6MTV-0170
Our Price: $4,485.00
WhatsUp Gold Virtual Monitoring 500 New Devices with 1 Year Service
#NA-6N0E-0170
Our Price: $4,980.00
WhatsUp Gold Virtual Monitoring 750 New Devices with 1 Year Service
#NA-62FD-0170
Our Price: $5,605.00
WhatsUp Gold Virtual Monitoring 1000 New Devices with 1 Year Service
#NA-6N5O-0170
Our Price: $6,230.00
WhatsUp Gold Virtual Monitoring 1500 New Devices with 1 Year Service
#NA-676Y-0170
Our Price: $6,645.00
WhatsUp Gold Virtual Monitoring 2500 New Devices with 1 Year Service
#NA-6NFS-0170
Our Price: $7,475.00
WhatsUp Gold Virtual Monitoring Unrestricted New Devices with 1 Year Service
#NA-6PFW-0170
Our Price: $12,460.00
WhatsUp Gold Virtual Monitoring with 2 Years Service Agreement
WhatsUp Gold Virtual Monitoring 25 New Devices with 2 Years Service
#NA-6MHY-0170
Our Price: $2,330.00
WhatsUp Gold Virtual Monitoring 50 New Devices with 2 Years Service
#NA-6MLP-0170
Our Price: $2,800.00
WhatsUp Gold Virtual Monitoring 100 New Devices with 2 Years Service
#NA-6MOW-0170
Our Price: $3,425.00
WhatsUp Gold Virtual Monitoring 200 New Devices with 2 Years Service
#NA-6MRR-0170
Our Price: $4,670.00
WhatsUp Gold Virtual Monitoring 300 New Devices with 2 Years Service
#NA-6MXI-0170
Our Price: $5,605.00
WhatsUp Gold Virtual Monitoring 500 New Devices with 2 Years Service
#NA-6N0T-0170
Our Price: $6,225.00
WhatsUp Gold Virtual Monitoring 750 New Devices with 2 Years Service
#NA-6C2Y-0170
Our Price: $7,005.00
WhatsUp Gold Virtual Monitoring 1000 New Devices with 2 Years Service
#NA-6N6D-0170
Our Price: $7,785.00
WhatsUp Gold Virtual Monitoring 1500 New Devices with 2 Years Service
#NA-6P7U-0170
Our Price: $8,305.00
WhatsUp Gold Virtual Monitoring 2500 New Devices with 2 Years Service
#NA-6NGB-0170
Our Price: $9,345.00
WhatsUp Gold Virtual Monitoring Unrestricted New Devices with 2 Years Service
WhatsUp Gold Virtual Monitoring with 3 Years Service Agreement
WhatsUp Gold Virtual Monitoring 25 New Devices with 3 Years Service
#NA-62ZQ-0170
Our Price: $2,800.00
WhatsUp Gold Virtual Monitoring 50 New Devices with 3 Years Service
#NA-69LX-0170
Our Price: $3,360.00
WhatsUp Gold Virtual Monitoring 100 New Devices with 3 Years Service
#NA-6B6N-0170
Our Price: $4,105.00
WhatsUp Gold Virtual Monitoring 200 New Devices with 3 Years Service
#NA-6CAW-0170
Our Price: $5,605.00
WhatsUp Gold Virtual Monitoring 300 New Devices with 3 Years Service
#NA-6CDC-0170
Our Price: $6,725.00
WhatsUp Gold Virtual Monitoring 500 New Devices with 3 Years Service
#NA-6FHL-0170
Our Price: $7,470.00
WhatsUp Gold Virtual Monitoring 750 New Devices with 3 Years Service
#NA-6RVK-0170
Our Price: $8,405.00
WhatsUp Gold Virtual Monitoring 1000 New Devices with 3 Years Service
#NA-6GDD-0170
Our Price: $9,340.00
WhatsUp Gold Virtual Monitoring 1500 New Devices with 3 Years Service
#NA-6SWE-0170
Our Price: $9,965.00
WhatsUp Gold Virtual Monitoring 2500 New Devices with 3 Years Service
#NA-6JPY-0170
Our Price: $11,210.00
WhatsUp Gold Virtual Monitoring Unrestricted New Devices with 3 Years Service
WhatsUp Gold Virtual Monitoring Service Agreements - 1 Year
WhatsUp Gold Virtual Monitoring 25 Service Agreement with up to 1 Year Service
#NA-7ONE-0170
Our Price: $470.00
WhatsUp Gold Virtual Monitoring 50 Service Agreement with up to 1 Year Service
#NA-7OYY-0170
Our Price: $560.00
WhatsUp Gold Virtual Monitoring 100 Service Agreement with up to 1 Year Service
#NA-7PBN-0170
Our Price: $685.00
WhatsUp Gold Virtual Monitoring 200 Service Agreement with up to 1 Year Service
#NA-7PTS-0170
Our Price: $935.00
WhatsUp Gold Virtual Monitoring 300 Service Agreement with up to 1 Year Service
#NA-7QLY-0170
Our Price: $1,125.00
WhatsUp Gold Virtual Monitoring 500 Service Agreement with up to 1 Year Service
#NA-7QWQ-0170
Our Price: $1,250.00
WhatsUp Gold Virtual Monitoring 750 Service Agreement with up to 1 Year Service
#NA-726G-0170
Our Price: $1,405.00
WhatsUp Gold Virtual Monitoring 1000 Service Agreement with up to 1 Year Service
#NA-7R7H-0170
Our Price: $1,560.00
WhatsUp Gold Virtual Monitoring 1500 Service Agreement with up to 1 Year Service
#NA-739H-0170
Our Price: $1,665.00
WhatsUp Gold Virtual Monitoring 2500 Service Agreement with up to 1 Year Service
#NA-7RIR-0170
Our Price: $1,870.00
WhatsUp Gold Virtual Monitoring Unrestricted Service Agreement with up to 1 Year Service
#NA-7GBT-0170
Our Price: $3,115.00
WhatsUp Gold Virtual Monitoring Service Agreements - 2 Years
WhatsUp Gold Virtual Monitoring 25 Service Agreement with up to 2 Years Service
#NA-7OOU-0170
Our Price: $935.00
WhatsUp Gold Virtual Monitoring 50 Service Agreement with up to 2 Years Service
#NA-7P0S-0170
Our Price: $1,120.00
WhatsUp Gold Virtual Monitoring 100 Service Agreement with up to 2 Years Service
#NA-7PCI-0170
Our Price: $1,370.00
WhatsUp Gold Virtual Monitoring 200 Service Agreement with up to 2 Years Service
#NA-7Q0W-0170
Our Price: $1,870.00
WhatsUp Gold Virtual Monitoring 300 Service Agreement with up to 2 Years Service
#NA-7QOO-0170
Our Price: $2,245.00
WhatsUp Gold Virtual Monitoring 500 Service Agreement with up to 2 Years Service
#NA-7QXE-0170
Our Price: $2,495.00
WhatsUp Gold Virtual Monitoring 750 Service Agreement with up to 2 Years Service
#NA-748E-0170
Our Price: $2,805.00
WhatsUp Gold Virtual Monitoring 1000 Service Agreement with up to 2 Years Service
#NA-7R8E-0170
Our Price: $3,115.00
WhatsUp Gold Virtual Monitoring 1500 Service Agreement with up to 2 Years Service
#NA-78HU-0170
Our Price: $3,325.00
WhatsUp Gold Virtual Monitoring 2500 Service Agreement with up to 2 Years Service
#NA-7RLR-0170
Our Price: $3,740.00
WhatsUp Gold Virtual Monitoring Unrestricted Service Agreement with up to 2 Years Service
#NA-7H4U-0170
Our Price: $6,230.00
WhatsUp Gold Virtual Monitoring Service Agreements - 3 Years
WhatsUp Gold Virtual Monitoring 25 Service Agreement with up to 3 Years Service
#NA-7D9Q-0170
Our Price: $1,400.00
WhatsUp Gold Virtual Monitoring 50 Service Agreement with up to 3 Years Service
#NA-7DZL-0170
Our Price: $1,680.00
WhatsUp Gold Virtual Monitoring 100 Service Agreement with up to 3 Years Service
#NA-7PBA-0170
Our Price: $2,055.00
WhatsUp Gold Virtual Monitoring 200 Service Agreement with up to 3 Years Service
#NA-7PYV-0170
Our Price: $2,805.00
WhatsUp Gold Virtual Monitoring 300 Service Agreement with up to 3 Years Service
#NA-7Q2U-0170
Our Price: $3,365.00
WhatsUp Gold Virtual Monitoring 500 Service Agreement with up to 3 Years Service
#NA-7RDQ-0170
Our Price: $3,740.00
WhatsUp Gold Virtual Monitoring 750 Service Agreement with up to 3 Years Service
#NA-7CLM-0170
Our Price: $4,205.00
WhatsUp Gold Virtual Monitoring 1000 Service Agreement with up to 3 Years Service
#NA-7TME-0170
Our Price: $4,675.00
WhatsUp Gold Virtual Monitoring 1500 Service Agreement with up to 3 Years Service
#NA-7QUN-0170
Our Price: $4,985.00
WhatsUp Gold Virtual Monitoring 2500 Service Agreement with up to 3 Years Service
#NA-7TVA-0170
Our Price: $5,605.00
WhatsUp Gold Virtual Monitoring Unrestricted Service Agreement with up to 3 Years Service
#NA-7UBZ-0170
Our Price: $9,345.00
WhatsUp Gold Virtual Monitoring Upgrades
WhatsUp Gold Virtual Monitoring 25 Upgrade to Virtual Monitoring 50
#NA-5FHU-0170
Our Price: $280.00
WhatsUp Gold Virtual Monitoring 25 Upgrade to Virtual Monitoring 100
#NA-5G4V-0170
Our Price: $655.00
WhatsUp Gold Virtual Monitoring 25 Upgrade to Virtual Monitoring 200
#NA-5GGN-0170
Our Price: $1,405.00
WhatsUp Gold Virtual Monitoring 25 Upgrade to Virtual Monitoring 300
#NA-5GRM-0170
Our Price: $1,965.00
WhatsUp Gold Virtual Monitoring 25 Upgrade to Virtual Monitoring 500
#NA-5HDP-0170
Our Price: $2,340.00
WhatsUp Gold Virtual Monitoring 25 Upgrade to Virtual Monitoring 750
#NA-52NP-0170
Our Price: $2,805.00
WhatsUp Gold Virtual Monitoring 25 Upgrade to Virtual Monitoring 1000
#NA-5HMD-0170
Our Price: $3,275.00
WhatsUp Gold Virtual Monitoring 25 Upgrade to Virtual Monitoring 1500
#NA-58QU-0170
Our Price: $3,585.00
WhatsUp Gold Virtual Monitoring 25 Upgrade to Virtual Monitoring 2500
#NA-5HPW-0170
Our Price: $4,210.00
WhatsUp Gold Virtual Monitoring 25 Upgrade to Virtual Monitoring Unrestricted
#NA-5HSA-0170
Our Price: $7,945.00
WhatsUp Gold Virtual Monitoring 50 Upgrade to Virtual Monitoring 100
#NA-5HUR-0170
Our Price: $375.00
WhatsUp Gold Virtual Monitoring 50 Upgrade to Virtual Monitoring 200
#NA-5JHQ-0170
Our Price: $1,125.00
WhatsUp Gold Virtual Monitoring 50 Upgrade to Virtual Monitoring 300
#NA-5JJM-0170
Our Price: $1,685.00
WhatsUp Gold Virtual Monitoring 50 Upgrade to Virtual Monitoring 500
#NA-5JLX-0170
Our Price: $2,060.00
WhatsUp Gold Virtual Monitoring 50 Upgrade to Virtual Monitoring 750
#NA-5AJF-0170
Our Price: $2,525.00
WhatsUp Gold Virtual Monitoring 50 Upgrade to Virtual Monitoring 1000
#NA-5JZY-0170
Our Price: $2,995.00
WhatsUp Gold Virtual Monitoring 50 Upgrade to Virtual Monitoring 1500
#NA-5AZJ-0170
Our Price: $3,305.00
WhatsUp Gold Virtual Monitoring 50 Upgrade to Virtual Monitoring 2500
#NA-5KGL-0170
Our Price: $3,930.00
WhatsUp Gold Virtual Monitoring 50 Upgrade to Virtual Monitoring Unrestricted
#NA-5KVR-0170
Our Price: $7,670.00
WhatsUp Gold Virtual Monitoring 100 Upgrade to Virtual Monitoring 200
#NA-5LMC-0170
Our Price: $750.00
WhatsUp Gold Virtual Monitoring 100 Upgrade to Virtual Monitoring 300
#NA-5LSM-0170
Our Price: $1,310.00
WhatsUp Gold Virtual Monitoring 100 Upgrade to Virtual Monitoring 500
#NA-5N6Y-0170
Our Price: $1,685.00
WhatsUp Gold Virtual Monitoring 100 Upgrade to Virtual Monitoring 750
#NA-5BJF-0170
Our Price: $2,150.00
WhatsUp Gold Virtual Monitoring 100 Upgrade to Virtual Monitoring 1000
#NA-5PRJ-0170
Our Price: $2,620.00
WhatsUp Gold Virtual Monitoring 100 Upgrade to Virtual Monitoring 1500
#NA-5BMJ-0170
Our Price: $2,930.00
WhatsUp Gold Virtual Monitoring 100 Upgrade to Virtual Monitoring 2500
#NA-5RUY-0170
Our Price: $3,555.00
WhatsUp Gold Virtual Monitoring 100 Upgrade to Virtual Monitoring Unrestricted
#NA-5S2C-0170
Our Price: $7,295.00
WhatsUp Gold Virtual Monitoring 200 Upgrade to Virtual Monitoring 300
#NA-5SSA-0170
Our Price: $565.00
WhatsUp Gold Virtual Monitoring 200 Upgrade to Virtual Monitoring 500
#NA-5U2T-0170
Our Price: $935.00
WhatsUp Gold Virtual Monitoring 200 Upgrade to Virtual Monitoring 750
#NA-5BWB-0170
Our Price: $1,405.00
WhatsUp Gold Virtual Monitoring 200 Upgrade to Virtual Monitoring 1000
#NA-5U7M-0170
Our Price: $1,870.00
WhatsUp Gold Virtual Monitoring 200 Upgrade to Virtual Monitoring 1500
#NA-5CEE-0170
Our Price: $2,185.00
WhatsUp Gold Virtual Monitoring 200 Upgrade to Virtual Monitoring 2500
#NA-5U7V-0170
Our Price: $2,805.00
WhatsUp Gold Virtual Monitoring 200 Upgrade to Virtual Monitoring Unrestricted
#NA-5UCG-0170
Our Price: $6,545.00
WhatsUp Gold Virtual Monitoring 300 Upgrade to Virtual Monitoring 500
#NA-5VAT-0170
Our Price: $375.00
WhatsUp Gold Virtual Monitoring 300 Upgrade to Virtual Monitoring 750
#NA-5FQU-0170
Our Price: $845.00
WhatsUp Gold Virtual Monitoring 300 Upgrade to Virtual Monitoring 1000
#NA-5VYP-0170
Our Price: $1,310.00
WhatsUp Gold Virtual Monitoring 300 Upgrade to Virtual Monitoring 1500
#NA-5HXT-0170
Our Price: $1,625.00
WhatsUp Gold Virtual Monitoring 300 Upgrade to Virtual Monitoring 2500
#NA-5WKA-0170
Our Price: $2,245.00
WhatsUp Gold Virtual Monitoring 300 Upgrade to Virtual Monitoring Unrestricted
#NA-5WLY-0170
Our Price: $5,985.00
WhatsUp Gold Virtual Monitoring 500 Upgrade to Virtual Monitoring 750
#NA-5KGV-0170
Our Price: $470.00
WhatsUp Gold Virtual Monitoring 500 Upgrade to Virtual Monitoring 1000
#NA-5WNG-0170
Our Price: $935.00
WhatsUp Gold Virtual Monitoring 500 Upgrade to Virtual Monitoring 1500
#NA-5LSP-0170
Our Price: $1,250.00
WhatsUp Gold Virtual Monitoring 500 Upgrade to Virtual Monitoring 2500
#NA-5X6G-0170
Our Price: $1,870.00
WhatsUp Gold Virtual Monitoring 500 Upgrade to Virtual Monitoring Unrestricted
#NA-5XCN-0170
Our Price: $5,610.00
WhatsUp Gold Virtual Monitoring 750 Upgrade to Virtual Monitoring 1000
#NA-5P7F-0170
Our Price: $470.00
WhatsUp Gold Virtual Monitoring 750 Upgrade to Virtual Monitoring 1500
#NA-5R7P-0170
Our Price: $780.00
WhatsUp Gold Virtual Monitoring 750 Upgrade to Virtual Monitoring 2500
#NA-5SKH-0170
Our Price: $1,405.00
WhatsUp Gold Virtual Monitoring 750 Upgrade to Virtual Monitoring Unrestricted
#NA-5YGT-0170
Our Price: $5,145.00
WhatsUp Gold Virtual Monitoring 1000 Upgrade to Virtual Monitoring 2500
#NA-5YAJ-0170
Our Price: $935.00
WhatsUp Gold Virtual Monitoring 1000 Upgrade to Virtual Monitoring Unrestricted
#NA-5YSU-0170
Our Price: $4,675.00
WhatsUp Gold Virtual Monitoring 1500 Upgrade to Virtual Monitoring 2500
#NA-5Z6R-0170
Our Price: $315.00
WhatsUp Gold Virtual Monitoring 1500 Upgrade to Virtual Monitoring Unrestricted
#NA-5ZGP-0170
Our Price: $4,207.50
WhatsUp Gold Virtual Monitoring 2500 Upgrade to Virtual Monitoring Unrestricted
#NA-5YUH-0170
Our Price: $3,740.00